It all started in 1959 when Don Bowman climbed into his used B 61 Mack tractor and trailer to haul coal. Don operated the tractor and trailer as an owner-operator with the dream of one day having 10 trucks. Don Bowman founded D.M. Bowman Inc. which obtained its first ICC Authority in 1966, adding several trucks to transport bricks from Williamsport, MD to locations outside of the state. Throughout the years, the company has added short haul truckload services and warehousing services. D.M. Bowman Inc. currently has a fleet of 382 power units and 8 terminals on the east coast.
D.M. Bowman, Inc., named as one of the Top 200 Carriers in the nation, operates its dedicated transportation, warehousing and logistics organization from headquarters strategically located at the crossroads of Interstates 70 & 81 in Maryland. Founded in 1959, we are privately held, and take great pride in our motto, "We Carry Through!" During these economic times, it should be noted that we remain financially sound; focusing upon developing long-term, mutually beneficial relationships based upon sound logistics solutions.
From regional van to bulk, flatbed and JIT transportation services to warehousing, inventory management, distribution and value-added services, D. M. Bowman, Inc. is ready and fully committed to be your total transportation and logistics provider. We offer haz-mat services in all of our operations, have CTPAT cross border certification, TWICS drivers and are SmartWay Certified. With over 1 million square feet of warehouse space located within Foreign Trade Zone #255, we manage terminal and/or warehouse operations in several states. Realizing timely and accurate communication is often as important as moving the product itself, we have Qualcomm fleet communication, EDI, secure 24/7 web-access for inventory management, load tracking, online documents including Delivery Receipts.
About the Owner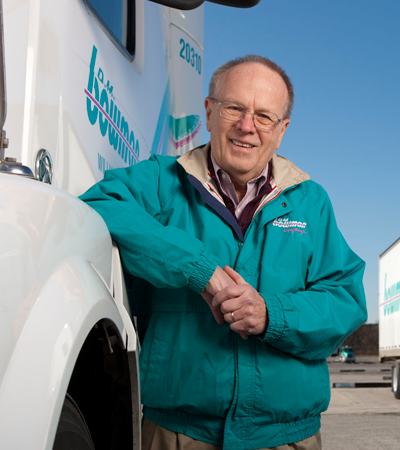 Don Bowman has resided in Washington County, MD his entire life which remains the home of D.M. Bowman Inc's headquarters. He has created a diversified company which currently encompasses trailer leasing, real estate, truck sales, logistics and hospitality.
Don has been active in community affairs, serving as an active Exchange Club member since 1972, with two 3-year terms as a board member. He is a member and past board member of the Hagerstown Associated Builders and Contractors. He is also a member of the local Chamber of Commerce, Board of Directors of Hagerstown Trust Company (since 1981), Board of Directors of Fulton Financial Corporation, Williamsport United Methodist Church, American Truck Historical Society, as well as various antique car and truck clubs. Don enjoys antique car and truck collecting and restoration, walking, and biking.
Don is actively involved in the trucking industry.  He has been a member of the American Trucking Association (ATA) since 1978 where he served as ATA State Vice President (1984-1988); Vice President at Large (1989-1992); and as Chairman (1995-1996).  He has been a member of the Maryland Motor Truck Association (MMTA) since 1971 where he served as President of the Western Maryland Chapter (1976-1977).  Don has been on the state MMTA board since 1974; served as Vice President (1979-1982); and, State President (1982-1983).  Don was honored by MMTA in 1995 as their Person of the Year.  He was named Business Leader of the Month for Washington County, July, 1994.