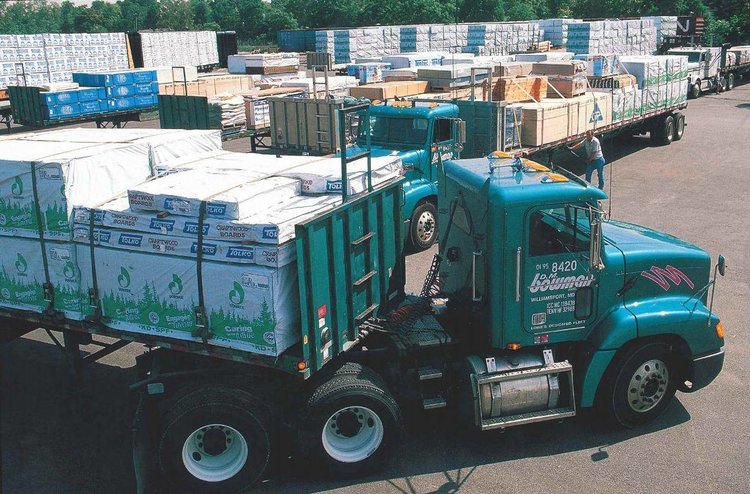 D.M. Bowman, Inc. is well known for their dedicated fleet services. D.M. Bowman, Inc. will offer all the advantages of a private fleet, without all of the associated costs. Enjoy some of the benefits of dedicated fleet services, like the best in on-time deliveries, superior quality, control/flexibility, experienced professional drivers, well-maintained tractors and trailers assigned exclusively to your freight, dedicated customer service team, specialty equipment, and dedicated support team onsite if required.
ADVANTAGES OF DEDICATED SERVICES
Having a private fleet at your disposal while leaving the transportation to us
Risk Management and Reduced Liability Exposure
Safety and Regulatory Compliance
Backhaul Revenue Share Gain Opportunities
Labor Insulation
Reduced Capital Expenditures
We take the worry out of managing your transportation program while putting more efficiency and flexibility into your business by providing tractors, trailers, drivers, fuel, maintenance, and management services.
With the prolonged trucking capacity crunch in the U.S., many shippers are now being faced with having to develop closer and contractual relationships with their preferred carriers. Providers of dedicated fleet services can help reduce costs and provide trucking capacity security in uncertain markets. This article is an overview of what fleet services entail and why D.M. Bowman is your best call for these services.
What is a Dedicated Fleet?
This is an assigned group of trailers, drivers, and any other resources to execute operations for a specific facility in a transportation network. It offers multiple advantages, like having access to a fleet without maintaining equipment or hiring drivers. Other users do not share dedicated services. Using a dedicated fleet solution in your network will help achieve consistency, top-quality service, and capacity while optimizing your transportation expenditure.
D.M. Bowman offers dedicated fleet services within the Williamsport, MD, area.
Dedicated Service Loads
Dedicated shipments are hauled consistently in the same lanes for a specified period of time at a fixed rate. When you book this type of shipment, your cargo is the only shipment in the truck.
Items Appropriate for Dedicated Fleet Services
The following items are appropriate for dedicated fleet services:
Large consignments
Sensitive/high value consignments
Items that are temperature sensitive
Time-sensitive consignments
Pros of Using Dedicated Fleet Services
Using dedicated fleet services comes with the following advantages:
Consistent and predictable pricing: lower rates are offered due to the predictability of the shipments and the freight travel routes.
Special handling and care: A dedicated fleet service is excellent if your products are of sensitive and high value, need special handling, complex delivery modes, installations at job sites, or need certain equipment to accommodate specialized cargo.
Predictability of shipment: Dedicated fleet services allow you the luxury of dependable in/outbound shipments, even if deliveries have tight schedules.
Capacity is assured: A customer is assured that a truck will be available for accepting or offloading shipments at the scheduled times.
Labor insulation: You need not worry about retaining drivers.
Is Dedicated Fleet Service Right for Your Company?
Relying on a dedicated fleet services provider frees you to channel your resources towards immediate business operations.
To decide whether contracting a dedicated fleet services provider is for you, consider the following:
Specialized equipment: Using a dedicated fleet makes acquiring specialized capacities such as flatbeds or refrigerated trailers easier.
You desire to have a private fleet at your disposal without worrying about fleet logistics.
Direction of freight flows: You will typically benefit more from a dedicated fleet service if you have networks with large flows.
Local/ regional deliveries: Dedicated fleets pay off when your local hauling requirements are below 100 miles because common carriers often apply minimum charges.
Network characteristics: A dedicated fleet is beneficial when the shipper sends a large number of loads through a large number of lanes.
Transportation mode: Typically used for truckload and multi-stop deliveries, dedicated carriers can provide network cost and service improvements.
Transportation rates available through common carriers: Implementing a dedicated fleet helps reduce freight transportation costs in expensive markets.
Why use D.M. Bowman in Williamsport, MD?
D.M. Bowman is well known for its dedicated fleet services. We offer all the advantages of a private fleet without all of the associated costs.
D.M. Bowman's fleet is locally owned and operated in Williamsport, MD. Therefore, you'll know who your account managers are, which makes constant communication possible. We have a lot of daily routes and are home daily- not gone for days at a time. We also have a sign-on bonus for new customers!
Call D.M. Bowman Today
From regional van to bulk, flatbed, and JIT transportation services to warehousing, inventory management, distribution, and value-added services, D.M. Bowman is ready and fully committed to being your total transportation and logistics provider.
Our full range of services includes:
Short-Haul Transportation
Van/Line-Haul
Flatbed, Bulk, and Specialty Services
Dedicated Fleet Services, Brokerage
Technology Related Services
Logistics
Maintenance, and Used Truck Sales & Trailer Leasing