We are excited to announce the promotion of Brian Hall to the role of Executive Vice President/ Chief Operating Officer (COO) of D.M. Bowman Inc. Brian has worked with D.M. Bowman Inc. for over 11 years and has been an invaluable member of the Bowman team.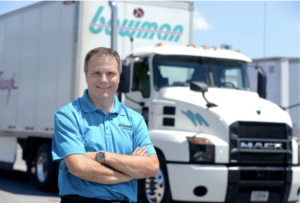 We are looking forward to everyone's support in working with Brian in maintaining our original company motto, "We Carry Through". With these changes we will look to achieve new goals and a positive growth throughout the company. New business is the lifeblood of the company and we will work together to treat our drivers and customers the right way to make this happen.
We are very excited about the future of D.M. Bowman Inc. and passing these responsibilities onto Brian. Together We will Carry Through. Please join me in congratulating Brian on his new role with the company.